WE ARE BANGKOK'S HOME OF ENGLISH LANGUAGE COMEDY

Live comedy every Friday, alternating between Stand-Up comedy and Improvised Sketch comedy (similar to the programs Whose Line Is It Anyway?)
Improv & Stand-Up comedy workshops for those who want to build public speaking confidence, or those who are considering trying their hand as performing comedy live!
Entertainment for your next corporate function, be it a special conference, a retirement party, or year-end employee appreciation night.
Team-builiding training using the principles of comedy and improvisation to increase innovative thinking, team cohesion, conflict resolution and presentation skills.
SEE WHO HAS PERFORMED AT THE COMEDY CLUB BANGKOK
The Best International And Local Acts!





Live Shows. Workshops. Corporate Events and Training.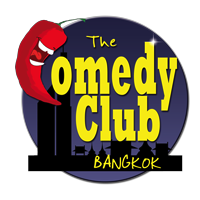 To produce professional English language comedy shows including open mic and professional stand-up, improv comedy, improvised sketch comedy, films, gameshows and panel shows.
To produce comedic theatre, workshops and basically anything funny!
To encourage the growth and development of the Bangkok comedy scene. Creating and nurturing new performers whilst continuing with the comedians who have been the heart and soul of comedy for Bangkok. Providing workshops and opportunities for comedians and improvisors to hone thier skills.
(If you are interested in taking part in an open-mic stand-up comedy night, contact us here.)
To bring a more international comedy (stand-up) circuit to and from Bangkok working closely with other comedy clubs and organizations in S.E Asia and beyond.
To arrange corporate event planning for Thailand's corporate clients providing entertainment such as improv and stand-up comedy for corporate events such as business dinners, product launches, themed parties, conferences, seminars and much more.
To provide corporate training services that utilize comedy and the principles of improvisation to enhance self-confidence, team-building, and presentation skills.
To contact us, shoot us an email by clicking here
The home of English Language Comedy In Bangkok