WE ARE BANGKOK'S HOME OF ENGLISH LANGUAGE COMEDY
Live comedy every Friday, alternating between Stand-Up comedy and Improvised Sketch comedy (similar to the programs Whose Line Is It Anyway?)
Improv & Stand-Up comedy workshops for those who want to build public speaking confidence, or those who are considering trying their hand as performing comedy live!
Entertainment for your next corporate function, be it a special conference, a retirement party, or year-end employee appreciation night.
Team-builiding training using the principles of comedy and improvisation to increase innovative thinking, team cohesion, conflict resolution and presentation skills.
SEE WHO HAS PERFORMED AT THE COMEDY CLUB BANGKOK
The Best International And Local Acts!




Live Shows. Workshops. Corporate Events and Training.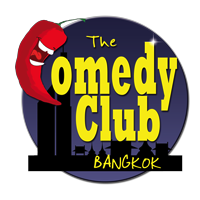 Improv Comedy and Stand-up Workshops
Workshops take place at The Comedy Club Bangkok.
These workshops are led by Canadian Comedy Award winning Best Male Improvisor, with over 20 years professional experience as an improvisor for Theatresports, Urban Improv, The Second City and Rock-Paper-Scissors.
BEGINNER WORKSHOP
(BEGINNER Workshop 1.0) 11:00am -3:00pm
This workshop is open to anyone, and you need absolutely no experience!
Improvised comedy is FUN! Lots of fun. But it is also a great way to build confidence, improve public speaking skills, and develop positive group dynamics. It is useful in life, business, and (of course) on the stage.
In this workshop you will learn the fundamental techniques of improv comedy. These are the 'tricks of the trade' that help to increase the likelihood of something funny happening! Comedy is all about surprise, and when two performers are making stuff up on the spot, there are lots of surprises! This workshop will introduce you to the principles of improv, principles that you will find useful in everyday life, at work, and if you are interested in maybe one day stepping up on stage, they will be useful there too! Your instructor has been a professional improv performer for twenty years. You will learn a lot, build your self-confidence, meet other great people, and have a really fun time.
If you are not sure if this workshop is for you, you can email me here, otherwise register now by clicking the button below.
Workshop is for 3 hours, plus a 1 hour break.
(four hours total)
Only 1,000 baht.